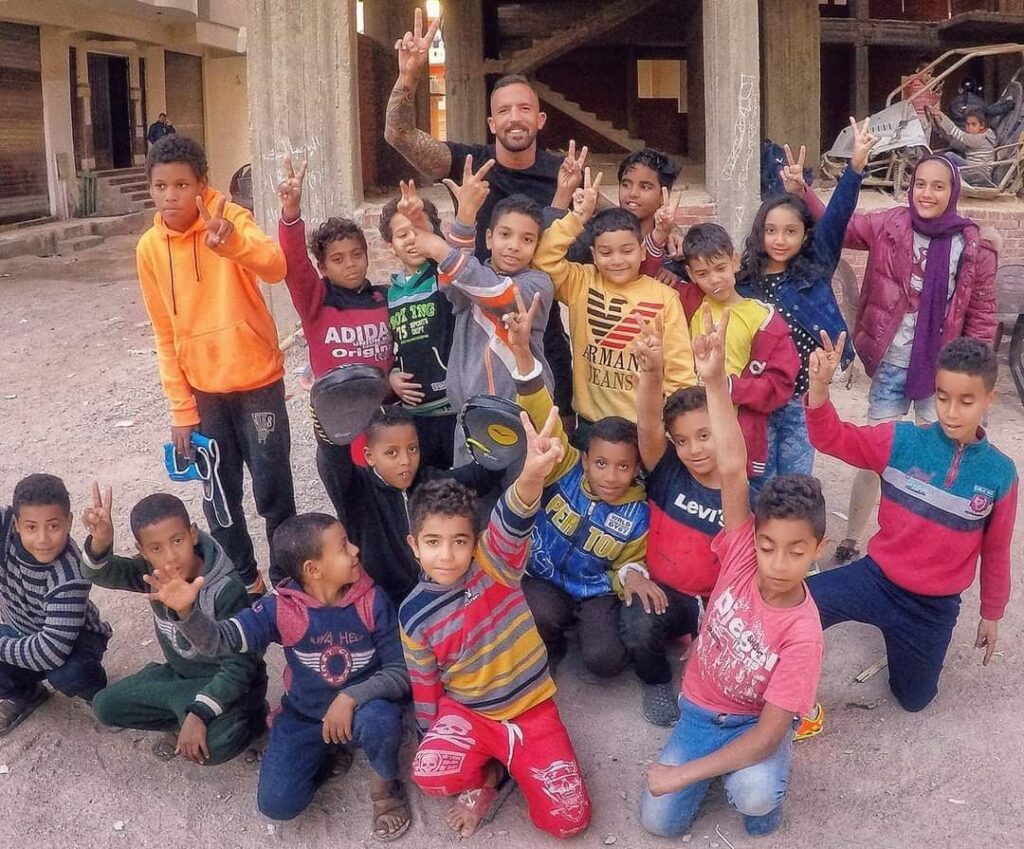 Young Fighters' Academy
The Young Fighters' Academy was established as a youth project to help local children get off the streets and into the gym. Children become gym members and graduate the academy free, once they have shown their dedication to learning and earnt their Valley Kings Gym tshirt; they are one of our Young Fighters.
Founder Faisel's Story

"I met a group of children in the street, two of whom were fighting with wooden sticks, hitting each other in a game. I suggested that they put on my boxing gloves and try some boxing pad work with me. The children were totally amazed by trying it out, and it was really obvious that they had already fallen in love with the sport."

"I came to Hurghada in Egypt for a holiday two years ago and immediately fell in love with the place. The Red Sea has some of the most beautiful marine life in the world, but there is also another side to the towns along the coast here which is very sad to see.
Egypt's poverty rate, based on research by CAPMAS, shows that 29.7% of Egyptian families here are living in poverty.
Many of the local children come from deprived backgrounds, with little or no education, and nothing to do with their time.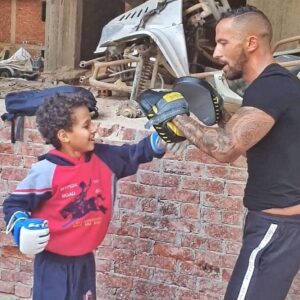 Some of these children are sent out to work from a very young age, mostly selling items, and also to beg – not just from tourists but from locals too. This is not a fair way for children to live. This cycle of poverty here traps them without an education and without opportunities to escape, and obviously putting the children in the streets puts them at risk. I've seen for myself that it's also very damaging for their self-esteem. There are no recreational facilities here for them, no parks or sports clubs, or ways to learn skills or self-development.
I decided to put all of my efforts in to creating a place for these children to train, to learn social skills, to learn respect, teamwork and most importantly, a place for them to feel safe. I want to use boxing as a way to challenge and inspire these kids, and to teach them how to build their own self-confidence and resilience. This is how Valley of the Kings Gym was born."
Boxing to a Better Future
We decided to begin fundraising with a JustGiving page which friends, family, and supporters have generously donated to. This has enabled us to open a gym in Hurghada for vulnerable children and youths to learn boxing. But we have far to go.
Valley Kings Gym Young Fighters' Academy was founded based on donations, and to continue to run, we need to ensure more. 
We are seeking to eventually reach 1,000 children, and in turn 4,000 secondary beneficiaries as the families experience a positive impact from the children's involvement. Many of these children are vulnerable, marginalised, orphans, extreme poor or underprivileged.

Creating a Sustainable Academy

Our current seed funding has allowed us to employ our foundation staff and launch our first stage of our young fighter's project, but we are looking to sustain our project beyond our 24-month plan and to scale up with an increased capacity and level of expertise. 
Going forward we hope to open extra sessions for children who are not attending school during the daytime. This will tend to be children with behavioural problems – they will be able to enjoy smaller classes where they can benefit from more focused mentoring.
We plan to scale up, employ more people, reach more children, take more children off the streets and into the gym.
Future Plans
Round Two

Now we need continued funding to keep the club going, provide more classes, pay for facilities, cover costs, and provide the best we can for our young fighters.
Our vision is focus on upskilling community-based staff, to ensure that they are capable of supporting Valley Kings Gym well into the future. We want the gym to be sustainable, embedded in the community, and to have a positive impact for years to come.
We will continue fund raising to allow continuity of projects and ensure we deliver on our promises to the youths already engaged in our academy.
Community
This engagement with the families and community allows us an entry point and pathway to expand our role within Hurghada and to deliver our message of empowerment through youth boxing. We want to create a connection with the community through youth activities, to train the children mentally and physically, to develop potential and learn new skills. Ultimately, we would like to get the local kids off the streets, and into the gym.

Outreach
We also plan to set up an 'Outreach' project where we can provide addition help such as home support and fundraising for those children most impoverished, such as raising funds for a refrigerator or cooker.
Check out our progress so far…
Donate to our Young Fighter's Academy
We are in need of further donations to ensure the children can access the club and we can continue to run in a safe and responsible way. Please consider donating to us, however small amount. All proceeds received go far in Egypt towards making a difference to children's lives here; and to their families.